Tudela, Camotes, Cebu - Five PhilRootcrops staff teamed as festivalgoers to the 5th Cassava Festival held at the Municipal Gym on May 20, 2006 Saturday.
The team who represented the Center consisted of Prof. Julieta R. Roa the Head of the Center's Extension and Socio-economics Division who supervised the over-all Center participation, Luzvisminda Ternura who took charge of the sales, Ma. Elsa Umpad who manned on putting up an exhibit, William Hubahib who did the documentation and Lucenita Estoy who took charge in cooking demonstration.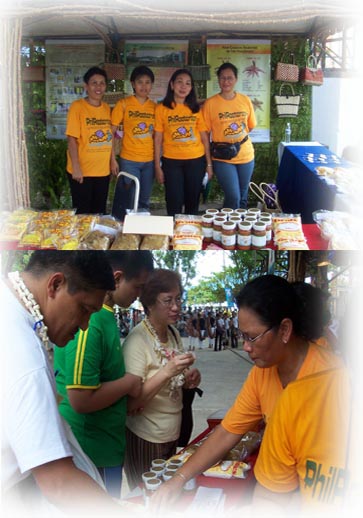 Different rootcrop-based food products were displayed in the exhibit booth shared between the Center and the Municipal Department of Agriculture. The products included cassava chippy, cassava cookies, cassava grates and Kabkab. Freshly cooked pitsi-pitsi was served to guests who visited the booth. Also, bottled sweetpotato pickles were displayed and sold at the booth. Hand-made romblon bags that were also on sales decorated the booth along with posters on rootcrop technologies.

Prof. Roa and Ms. Umpad served as judges of the Cassava-based food-cooking contest while Mr. Hubahib chaired the board of judges in the Booth contest, all held in the afternoon of the same day.

The teams participation was in response to the invitation of the officials of the municipality through its Municipal Agriculture Officer Ms. Vicky Nocellas.