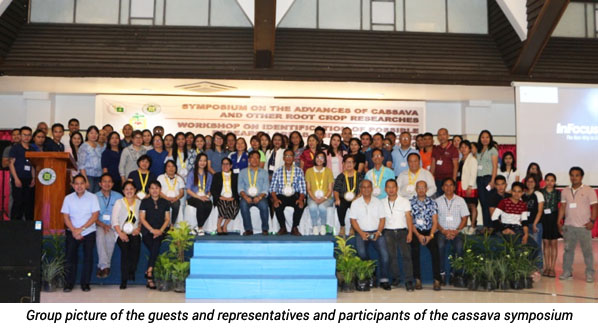 With its theme "Strengthening RDE Partnerships Towards the Advancement of the Cassava Industry", the Philippine Root Crop Research and Training Center (PhilRootcrops) celebrated its 42nd Anniversary. As part of the celebration, the center, in collaboration with the Agricultural Training Institute (ATI), organized a "Symposium on the Advances of Cassava and other Root Crop Researches and Workshop on Identification of Possible Research Areas and Technologies for Training" on March 20-21, 2019 at the Research and Development Extension (RDE) hall, VSU Baybay City, Leyte.
Several guests were present during the event including representatives from the Department of Agriculture-Bureau of Agricultural Research (DA-BAR), Agricultural Training Institution (ATI), cassava focal persons from different regions spearheaded by the National Cassava Focal Person, Dr. Lorenzo Caranguian, and partners from the National Root Crop Cooperative Testing Program. Through converging the different stakeholders especially technology generators and technology disseminators, the event aimed to generate ideas for possible researchable areas on technology generation and dissemination.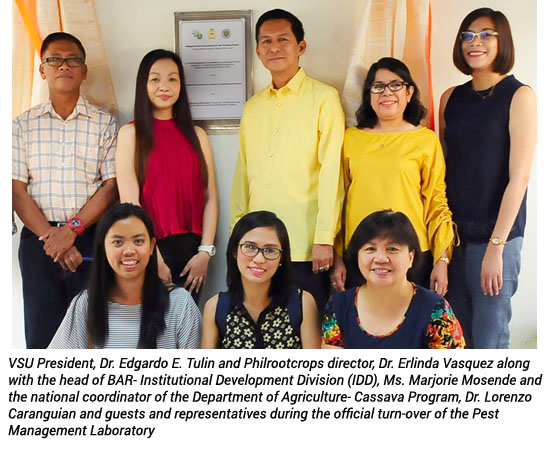 During the first day, a symposium on the advancement of cassava and rootcrop industry in the Philippines was conducted. The topics presented were production, climate change adaptation, and post-harvest processing systems. The generated baseline information necessary for the next activity was continued on the workshop the following day. Possible researchable areas and technologies for training on production, postharvest and processing, and extension and social economics were identified.
Another highlight was the official turn-over of the Pest Management Laboratory under the auspices of DA-BAR to Philrootcrops. The turn-over was leaded by the VSU President, Dr. Edgardo E. Tulin and the assistant head of BAR- Institutional Development Division (IDD), Ms. Marjorie Mosende accompanied by Dr. Erlinda Vasquez and the national coordinator of the Department of Agriculture- Cassava Program, Dr. Lorenzo Caranguian.
The event ended with a Memorandum of Agreement signing between the Visayas State University (Dr. Edgardo E. Tulin) and the Province of Surigao del Sur (Gov. Manuel Alameda Sr.). The memorandum signifies the cooperation of the university and the province in supporting the rootcrop industry.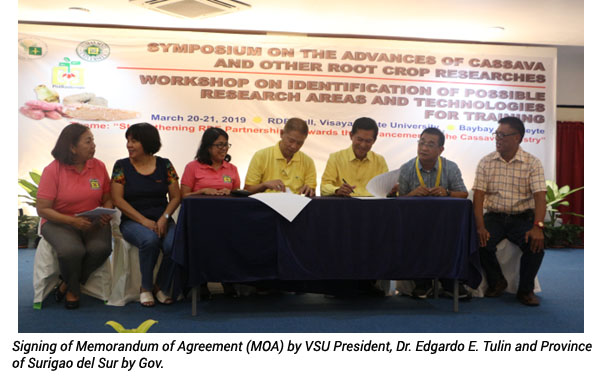 It can be recalled that Philrootcrops is the center of excellence in the whole country for its outstanding contribution to the root crops industry. Being the leading institution for rootcrop research, it is expected that the event will result in a significant contribution towards an effective planning and implementation of rootcrop research in the country. The center will continue to withhold its core values and perform its mandate to deliver their mission and achieve their goals- to generate and promote root crop innovations and information that can improve the lives of stakeholders along the value chain.