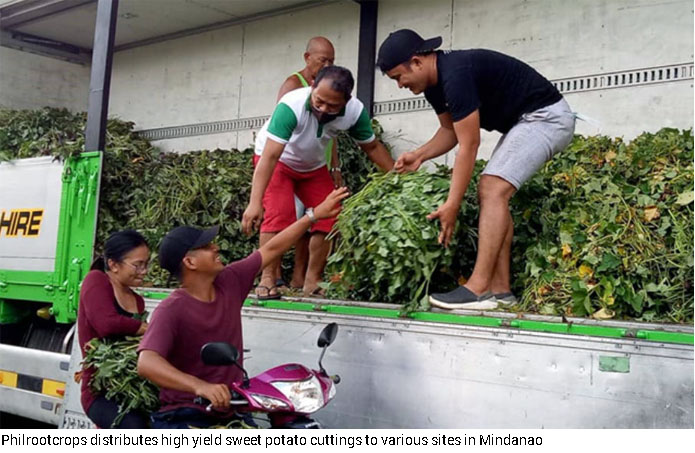 The Philippine Root Crop Research and Training Center (PhilRootcrops) continues to contribute in the global fight against the COVID-19 pandemic by reinforcing their Integrated Extension Program on Root Crops to promote food security, nutrition, and livelihood development in some marginalized agricultural barangays of Baybay City, Leyte. This project has been ongoing since April 2020 despite community lockdowns implemented within Baybay CIty and the greater Leyte area.
The main objectives of PhilRootcrops' extension program are to increase the utilization and consumption of root crops to promote nutrition and health with a long term goal of developing local root crop value chains and industries that will hopefully provide livelihood opportunities to the Baybayanons.
PhilRootcrops' programs have national coverage but due to the travel restrictions brought by the pandemic, they were only able to concentrate their physical or close-contact services in Baybay City as of now. However, this has already made a significant impact on making Baybay City as a local model for the root crop industry that can be adopted in other areas in the Philippines.
The Baybay City LGU poured a huge investment on strengthening the local sweet potato industry by allocating an initial investment worth 10 million pesos, to which 7 million of this will be used for infrastructure and equipment while 3 million will be allocated for product development activities such as processing, packaging, and marketing. 
The Integrated Extension Program on Root Crops involves the distribution of high yielding root crop varieties for processing, direct table use, and for value chain development services. These high yielding varieties can help farmers increase their yield from just merely 5 tons per hectare to more than 20 tons per hectare.
Prof. Marlon Tambis, the head of the Extension and Socio-Economic Division of PhilRootcrops, stressed the importance of sweet potatoes in poverty alleviation and in improving human nutrition.
"Aside from its profitability, growing sweet potatoes can also help farmers and their family in acquiring essential nutrients, vitamins, minerals, and antioxidants. It is crucial, especially now that we are experiencing a pandemic, that we need to take care of our health and nutrition", Prof. Tambis explained.
PhilRootcrops also provides market links, financial support, production input assistance, and capacity building training for farmers using techno-transfer methods, such as farming demonstrations and direct farming supervision and monitoring.
The research and training institute has spearheaded the utilization of innovations in the value-added processing of sweet potato, which includes vacuum frying and puree processing. These shall provide the raw materials for other nutritious, high-value products, such as ice cream and bakery products that will hopefully increase the demand for root crops within the Baybay City and even beyond.
While much of the activities of PhilRootcrops right now are concentrated on Baybay City because of mobility issues, the Center continues to help other parts of the country by distributing 140,000 sweet potato cuttings to four pilot sites in Mindanao specifically in Surigao, Tagum, Polomolok, and Dapitan. All these cuttings traveled to Mindanao from VSU on September 14, 2020. 
The variety of these cuttings include Vacuum Fried SP, Deep Orange (35), Deep Purple Japonita, and Fleshy White (36), all of which are high-yielding varieties and are proven to be suitable to the local environment in Mindanao. These plant cuttings will be cultivated by the institute's project partners in Mindanao to increase utilization and consumption of root crops and its by-products across the country.
PhilRootcrops expects to see short term benefits of food security and nutrient adequacy to the participating farmers and their families since the crops can be harvested in three and a half months. The economic impact of the program is predicted to start as early as 2-3 years or once the market of the processed products stabilizes and the whole value chain becomes more prominent.
As of June 2020, there are around 70 farmers who benefited from the program across 15 rural barangays in Baybay City. Several farmers who first received their planting materials in April have actually already reaped harvests and earned income out of this project. By: Allen Glen Gil
Source: https://www.vsu.edu.ph/articles/news/1853-vsu-intensifies-food-security-efforts-root-crop-production-amidst-covid19