Pest Management
CASSAVA
IPM. Two (2) NSIC recommended varieties (NSIC CV – 30, Rayong 5; UPL 2 – Lakan 1) and the two farmer varieties; Kapolotan and Golden yellow Kapolotan were relatively tolerant to CPD and an early maturing variety. Rayong 5 is the most susceptible and sensitive to pesticide treatment resulting high mortality rate and late germination.
Sweetpotato was used for intercrop for weed control. The frequency of weeding was educed to by 40%, instead of 3 weedings and 2 underbrushing to 2 weedings and 1 underbrushing. The additional advantage is added income of the farmer at 3 – 4 months after planting while waiting for another 4 – 6 months after from the income of cassava. The income from sweetpotato as intercrop resulted to higher profit margin.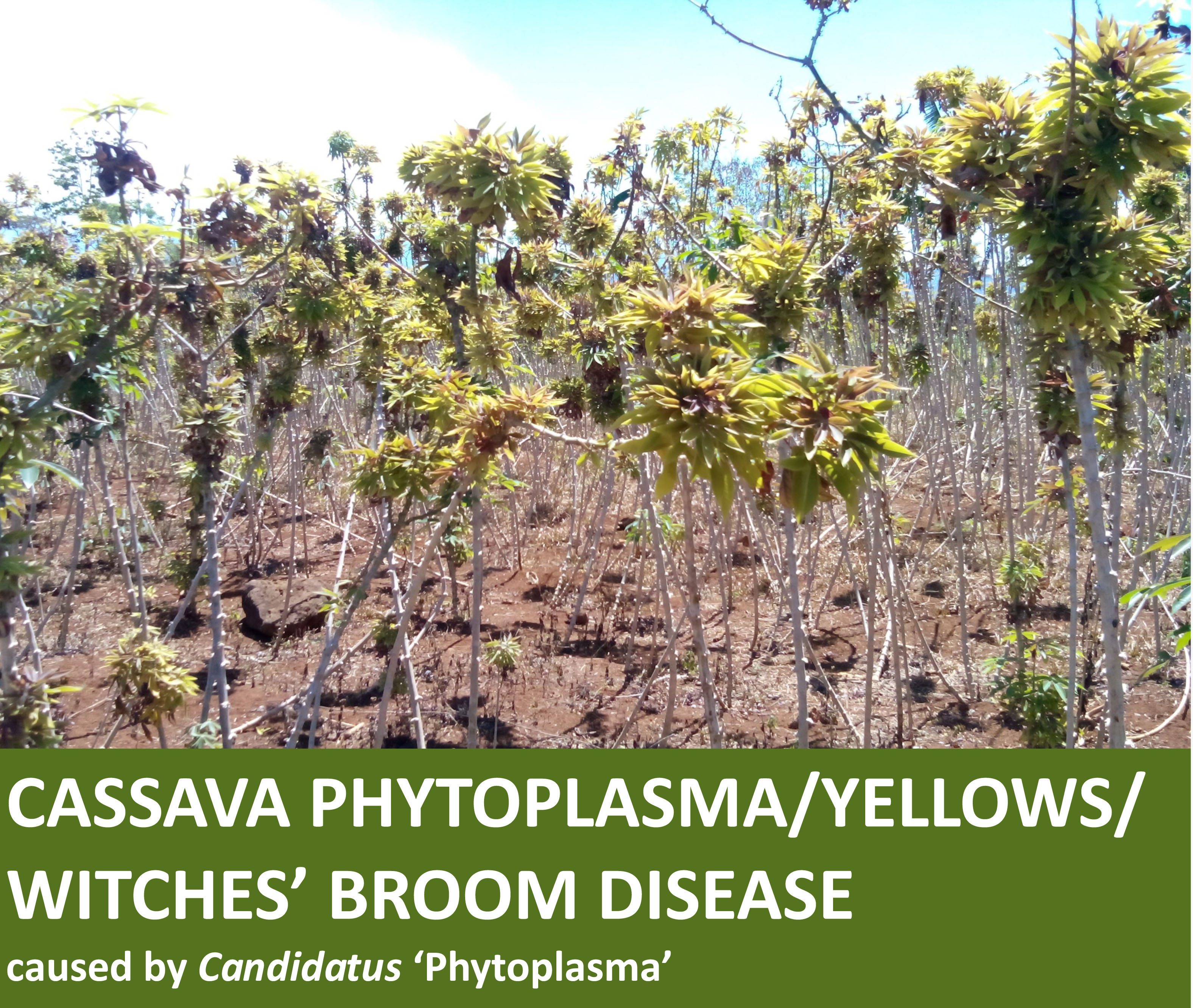 Phytoplasma. Fifty (50) cassava varieties including 48 NSIC varieties and 2 farmers' varieties were screened for resistance to phytoplasma disease and to assess the reaction of these varieties to pre-planting antibiotic treatment. The results of the experiments showed that phytoplasma infection in cassava results to an increase in mortality in plants and HCN content of tuberous roots of cassava. The degree of severity to phytoplasma infection in cassava was also found to be influenced by the phytoplasma strain. Plants inoculated with phytoplasma collected from Bohol exhibits greater reduction in growth and yield parameters compared to those inoculated with phytoplasma bacteria from Poro, Camotes Cebu. From these, eleven (11) cassava varieties were selected on the basis of HCN content and tolerance to phytoplasma infection. These varieties were VC-3, PSB CV 12, PSB CV 15, PSB CV 19, NSIC CV 24, NSIC CV 25, NSIC CV 28, NSIC CV 30, NSIC CV 39, NSIC CV 47, and Kapolotan.
The reaction of 50 cassava varieties to pre-planting treatment with streptomycin showed significant differences between the yield of untreated controls and streptomycin treated cassava. Results of the study suggests that utilization of identified tolerant cassava varieties and pre-planting treatment can yield to significant reduction of the devastating effects of phytoplasma to cassava's agronomic and yield performance.
LFIA Detection Kit for Phytoplasma. The kit to be developed is an immune-based detection kit which will be in a lateral flow format (LFIA). Antisera will be generated from New Zealand White Rabbit. Twelve rabbots were purchased from two sources, 10 were bought from a pet shop in Maasin City and two were bought from Davao City. In the meantime, two strains (one from Bohol, one from Camotes) of phytoplasma infecting cassava were cultured and maintained in a screenhouse. Phytoplasma extract were produced from infected cassava plants.
Twenty (20) mL of antibody against the cassava extract was generated. This antibody against the cassava extract was used to purify the 400 ml phytoplasma extract (200ml from each strain). The purified bacterial extract were used as antigen immunized to rabits to generate antibody against phytoplasma (Phytoplasma candidatus asteris). Seventy-two days after immunization 44 mL of partially purified antisera was produced (10 mL for Camotes strain, 15 mL Bohol strain, and 10 mL Camotes & Bohol mix. Antibody concentration was determined. The antibody for Bohol strain was 97.9 mg/mL; Camotes strain was 13.2 mg/mL; Bohol & Camotes strains mixed was 19.97 mg/mL.
TARO
Phytoptora leaf blight resistance. VG – 2 ad NSIC G – 9 had higher rating than the new genotypes. The new genotypes may have possess new gene combinations that may confer some tolerance to the present straints of Phytophtora colocasiae.